Ubiquiti Networks
ES-16-XG EdgeSwitch 16 10G 16-Port Managed Aggregation Switch
ES-16-XG
12 x SFP+ Ports
4 x 10G RJ-45 Ports
1 x RJ-45 Serial Console Port
Non-Blocking Throughput: 160 Gbps
Switching Capacity: 320 Gbps
Forwarding Rate: 238.10 Mpps
Rackmountable
DC Input Option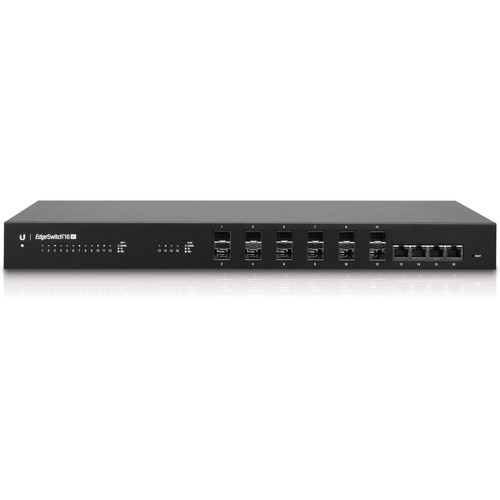 Con 12 puertos SFP + y 4 puertos 10G RJ-45, el conmutador de agregación administrado ES-16-XG EdgeSwitch 16 10G de 16 puertos de Ubiquiti reside en la capa 2 de la red y también admite capacidades mejoradas de enrutamiento de capa 3. Los 12 puertos SFP + facilitan la conexión de conmutadores adicionales a la red, mientras que los puertos 10G RJ-45 permiten que los dispositivos como los arreglos de almacenamiento NAS se incorporen directamente a la configuración, haciendo que los datos almacenados sean accesibles para múltiples clientes. Una vez configurado, el EX-16-XG admite un rendimiento sin bloqueo de hasta 160 Gbps, una capacidad de conmutación de 320 Gbps y una velocidad de reenvío de hasta 238,10 Mpps. La instalación del interruptor es simple gracias a los soportes de montaje en bastidor incluidos y con la opción de entrada de CC, el interruptor se puede configurar en modo redundante o independiente.
Enlaces de alta capacidad 10G
El EdgeSwitch presenta 12 puertos SFP + y cuatro puertos RJ45 10GBASE-T para entregar y agregar datos de manera eficiente a velocidades de 10G.
Potente rendimiento de conmutación
EdgeSwitch ofrece la capacidad de reenvío para procesar simultáneamente el tráfico en todos los puertos a la velocidad de línea sin pérdida de paquetes. Por su rendimiento total sin bloqueo, el EdgeSwitch admite hasta 160 Gbps.
Conmutación de empresa avanzada
EdgeSwitch utiliza un sistema operativo sofisticado que proporciona funciones avanzadas de conmutación, incluido el etiquetado VLAN y la agregación de enlaces, y funciones limitadas de capa 3, incluido el enrutamiento estático y la funcionalidad del servidor DHCP.
Ubiquiti Networks ES-16-XG Specs
Enclosure Characteristics
SGCC steel
Total Non-Blocking Throughput
160 Gbps
Switching Capacity
320 Gbps
Forwarding Rate
238.10 Mpps
Power Consumption
Max. DC Power Consumption: 36 W
Power Method

AC


100-240 VAC / 50-60 Hz, universal input


DC


DC 56 W, 25 to 16 V, with 2.5 mm
DC power inline connector
Voltage

AC


100 to 240 VAC


DC


25 to 16 VDC
Power Supply
AC/DC, Internal, 56 W DC
LEDs
Speed/Link/Activity
Ethernet Networking Interfaces
12 x 1/10 Gbps SFP+ Ethernet ports
4 x 1/10 Gbps RJ45 Ethernet ports
Management Interface
1 x RJ-45 serial port, Ethernet in/out band
Certifications
CE, FCC, IC
Rackmount
Yes, 1U high
ESD/EMP Protection
Air: ± 24 kV, Contact: ± 24 kV
Temperature & Humidity
Operating Temperature: 23 to 104°F / -5 to 40°C
Operating Humidity: 5 to 95% non-condensing
Shock and Vibration
ETSI300-019-1.4 Standard
Core Switching
ANSI/TIA-1057: LLDP-Media Endpoint Discovery (MED)
IEEE 802.1AB: Link Layer Discovery Protocol (LLDP)
IEEE 802.1D: Spanning Tree Compatibility
IEEE 802.1S: Multiple Spanning Tree Compatibility
IEEE 802.1W: Rapid Spanning Tree Compatibility
IEEE 802.1Q: Virtual LANs with Port-Based VLANs
IEEE 802.1p: Ethernet Priority with User Provisioning and Mapping
IEEE 802.1X: Port-Based Authentication with Guest VLAN Support
IEEE 802.3: 10BASE-T
IEEE 802.3u: 100BASE-T
IEEE 802.3ab: 1000BASE-T
IEEE 802.3an-2006: 10GBASE-T
IEEE 802.1ak: Virtual Bridged Local Area Networks - Amendment 07: Multiple Registration Protocol
IEEE 802.3ac: VLAN Tagging
IEEE 802.3ad: Link Aggregation
IEEE 802.3x: Flow Control
IEEE 802.1D-2004: Generic Attribute Registration Protocol: Clause 12 (GARP)
IEEE 802.1D-2004: Dynamic L2 multicast registration: Clause 10 (GMRP)
IEEE 802.1Q-2003: Dynamic VLAN registration: Clause 11.2 (GVRP)
RFC 4541: Considerations for Internet Group Management Protocol (IGMP) Snooping Switches
RFC 5171: Unidirectional Link Detection (UDLD) Protocol
Advanced Layer 2 Specifications
Broadcast Storm Recovery
Broadcast/Multicast/Unknown Unicast Storm Recovery
DHCP Snooping
IGMP Snooping Querier
Independent VLAN Learning (IVL) Support
Jumbo Ethernet Frame Support
Port MAC Locking
Port Mirroring
Protected Ports
Static MAC Filtering
TACACS+
Voice VLANs
Unauthenticated VLAN
Internal 802.1X Authentication Server
Platform Specifications
DHCP Server
- Maximum Number of Pools: 128
- Maximum Number of Leases (Total): 2048
Routing
- Number of Routes: 16
- Number of Routing Interfaces: 15
VLANs: 255
MAC Addresses: 8k
MSTP Instances: 4
LAGs: 6
ACLs: 100 with 10 Rules per Port
Traffic Classes (Queues): 8
System Facilities
Event and Error Logging Facility
Run-Time and Configuration Download Capability
PING Utility
FTP/TFTP Transfers via IPv4/IPv6
Malicious Code Detection
BootP and DHCP
RFC 2021: Remote Network Monitoring Management Information Base Version 2
RFC 2030: Simple Network Time Protocol (SNTP)
RFC 2819: Remote Network Monitoring Management Information Base
RFC 2865: RADIUS Client
RFC 2866: RADIUS Accounting
RFC 2868: RADIUS Attributes for Tunnel Protocol Support
RFC 2869: RADIUS Extensions
RFC 3579: RADIUS Support for EAP
RFC 3580: IEEE 802.1X RADIUS Usage Guidelines
RFC 3164: BSD Syslog Protocol
Management
Web UI
Industry-Standard CLI
IPv6 Management
Password Management
Autoinstall Support for Firmware Images and Configuration Files
SNMP v1, v2, and v3
SSH 1.5 and 2.0
SSL 3.0 and TLS 1.0
Secure Copy (SCP)
Telnet (Multi-Session Support)
Layer 3 Routing
Static Routing
Policy Based Routing
QoS (Quality of Service)
Access Control Lists (ACLs), Permit/Deny Actions for Inbound IP and Layer 2 Traffic Classification Based on:
- Time-Based ACL
- Source/Destination IP Address
- TCP/UDP Source/Destination Port
- IP Protocol Type
- Type of Service (ToS) or Differentiated Services (DSCP) Field
- Source/Destination MAC Address
- EtherType
- IEEE 802.1p User Priority
- VLAN ID
- RFC 1858: Security Considerations for IP Fragment Filtering
Optional ACL Rule Attributes
- Assign Flow to a Specific Class of Service (CoS) Queue
- Redirect Matching Traffic Flows
Differentiated Services (DiffServ)
- Classify Traffic Based on Same Criteria as ACLs
- Mark the IP DSCP or Precedence Header Fields, Optional
- Police the Flow to a Specific Rate with Two-Color Aware Support
- RFC 2474: Definition of the Differentiated Services Field (DS field) in the IPv4 and IPv6 Headers
- RFC 2475: An Architecture for Differentiated Services
- RFC 2597: Assured Forwarding Per-Hop Behavior (PHB) Group
- RFC 3246: An Expedited Forwarding PHB
- RFC 3260: New Terminology and Clarifications for DiffServ
Class of Service (CoS) Queue Mapping Configuration
- AutoVoIP: Automatic CoS Settings for VoIP
- IP DSCP-to-Queue Mapping
- Configurable Interface Trust Mode (IEEE 802.1p, DSCP, or Untrusted)
- Interface Egress Shaping Rate
- Strict Priority versus Weighted Scheduling per Queue
Dimensions
17.44 x 8.70 x 1.69" / 443 x 221 x 43 mm
Weight

Rackmount Brackets Included


5.97 lb / 2.71 kg


Rackmount Brackets Excluded


5.78 lb / 2.62 kg
Package Weight
7.85 lb
Box Dimensions (LxWxH)
21.4 x 10.5 x 2.9"